Conservative Resurgence
by Paige Patterson
It is important to know and understand one's own denominational history. Not only does it allow for appreciation of the past, it can show the pitfalls and issues that arose and how they were dealt with to lay framework for future generations.
In "The Southern Baptist Conservative Resurgence," Paige Patterson presents a three-fold recount of his involvement in the Conservative Resurgence of the Southern Baptist Convention. He opens with the history and theological drift from World War II leading up to the 1980s, shifts to the plan that he and others came up with and his involvement in the convention and Southern Baptist denomination, and then offers his assessment on the time and what the future looks like for the convention.
---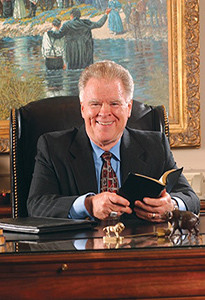 About the Author
As the eighth president of Southwestern Baptist Theological Seminary, Paige Patterson has four decades of experience in educating pastors and missionaries. After almost 18 years as president of The Criswell College in Dallas, he served for 11 years as president of Southeastern Baptist Theological Seminary in Wake Forest, North Carolina, before his decade at Southwestern. Even as a pastor he offered instruction in Greek and biblical studies to his parishioners. The focus of Dr. Patterson's leadership is an intense commitment to evangelism and the task of global missions with a foundational component of demanding research and rigorous academic preparation.